How To Get Rid Of Blemishes Naturally
Do you get irritated by the dark spots or acne marks on your face, especially when you are dating someone? Do you want to eliminate all of them to boost your confidence back? If you say yes, you are not alone. Many teenagers are also struggling with this problem and trying to find the best solution to remove blemishes away. Those spots are skin blemishes which are skin imperfections like whiteheads, blackheads, acne marks, and dark spots or areas. Some people find medical treatment or cosmetics but those methods are normally cost an arm and a leg and use chemicals that can damage your skin. Alternatively, you can use natural home remedies to get rid of blemishes and take care of your skin at the same time. In this article, we are going to give you 10 tips that you can do at home to take them away.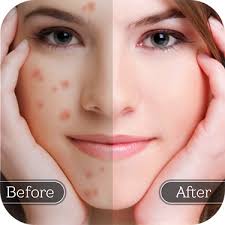 Rosewater
Rosewater plays the role as a great skin toner. It helps reduce the size of the pores which causes blackheads or whiteheads. You can use it daily as your skin care routine because it only eliminates blemishes but also pamper you skin. You should use clean gauze to apply rose water or spray on your face skin twice a day.
Lemon juice
If you pay attention in taking care of your skin, you must know lightening effects on skin of lemon juice. This decolorizing effect will dwindle dark spots as well as over-pigmentation by its high citric acid level. It also helps to avoid the appearance of ugly pores and make our skin smooth. Otherwise, lemon has many benefits for your health.
– What you should do is extremely easy: put lemon juice on your affected skin and leave it on for 10 minutes before wash it off.
– You also can mix a half of lemon juice with a half of honey and apply this mixture on your face skin four 15 minutes daily to get the best results.
Tomato juice
As the same effect as lemon juice, tomato juice remove blemishes due to its high vitamin C, antioxidants and lycopene content. Those components will help glow the skin and minimize large pores and treat acne.
Potato
Potato is one of the best home remedies to treat blemishes by reducing skin pigmentation. If you have dark circle under your eyes, you also can use potato to fade them away.
– Firstly, you should extract the juice from the fresh potatoes.
– Use a cotton ball and dip into the juice. Then apply on your face for 15 to 20 minutes before rinsing it off.
– Keep doing this for a month or until you get the peak result
Aloe vera
Various studies have been conducted to found the effects of Aloe vera on treating blemishes and they found out that it has amazing result in reducing blemishes. That is because it contains polysaccharides which promote new cell growth process and scar healing.
– Get aloe vera from fresh aloe vera leaf. Then apply this gel to your affected skin area for 15 to 20 minutes before wash it off. To get the best result, you should keep doing this every day for one month.
Banana peels
Banana peels are a very good material for lessen the redness and inflammation due to its anti-inflammation property
– Utilize the inner side of the banana peel to massage your face for about 10 to 15 minutes.
– It would be better if you don't wash you face and leave it on as long as you can.
– You should do this method continuously 3 times per day until you see the improvement.